The BenQ MX822ST DLP projector is designed for presentations in a variety of situations, such as conference rooms and classrooms. It provides 3500 lumens of brightness with a low noise level. It features a 13,000:1 contrast ratio, 3D capabilities, and 1024×768 native resolution. The lamp features a long life of up to 3500 hours. The MX822ST is equipped with BenQ's SmartEco Technology as well, which combines optimum levels of brightness and picture quality for maximum energy savings.  The MX822ST is built with DLP technology that supports 3D functionality, allowing users to showcase an immersive experience with the simple preparation of 3D glasses and 3D content from your BluRay player.
The MX822ST is great for classroom applications.  It promotes classroom collaboration as well as teacher-student interaction by facilitating a diverse learning environment that caters to all types of learners.  It also provides additional support for multi-device collaboration. With simultaneous teacher-student interaction, students can take turn making their contribution to the lesson under the teacher's guidance and control.
Another great feature the MX822ST is it's short-throw functionality, which makes it ideal for any situation where there is a presenter, such as a classroom or a conference room. It's short-throw capability makes it possible to project a large, crisp image from a much shorter distance. This will keep the bright light out of the presenter's eyes and eliminate any issues with them interfering with the image, while still being able to interactively use the projector.
The DLA-RS56 carries the certification of Imaging Science Foundation (ISF) such as other JVC projectors and it is undergoing now the certification of THX 3D.
JVC Professional can be one of the very aggressive and popular manufacturers in the category of entire projector. In Indianapolis, this company made what it permanently makes during the just finished CEDIA Expo: it updated its home theater projectors line.
JVC Professional announced, at the event of annual trade, its new projectors line that offers new five products. Products included the DLA-RS56 projector that gets the below place of the flagship DLA-RS66 projector. This DLA-RS56 projector provides an updated version of the technology of e-shift of the company which upscaled 4K resolutions from 2K video content, besides its certification of Imaging Science Foundation (ISF), the projector, along with any other model is pending certification of THX 3D. The contrast ratio of the projector has also been improved by JVC Professional which says that the unit could produce a 90,000:1 native contrast level.
JVC Professional has also labeled the 3D video capabilities of the product line by technologies of adding RF-based active-shutter. It says the projector also includes new optical engines and circuit designs which remove 3D crosstalk.
Quixel Research has provided this year many reports on the consumer audio and video state. Here are some highlights on front projectors, LCD/LED TVs and plasma TVs.
Low-resolution Video Projectors Drive the Category
Front projectors grew in 2012 with unit sales by nearly 160,000 versus the previous year, but revenues minimized by 8% over year-over-year. This category rose 30% in revenues and 24% in units from Q3 to Q4 2012. Value-priced 720p projectors got in both revenue and unit share in this overall market.
LCD/LED displays over 50-inch fuel big-screen category
LCD/LED TV was up in unit sales by 2% in 2012 compared to 2011. The fourth quarter was up 29% in whopping versus the third quarter. Revenues declined by 3% in 2012 versus the previous year. TVs larger than 50-inch grew in unit share from Q4 2011 to Q4 2012from 11% to 24%. The top selling LCD TV was a 60-inch model for Q4 2012.
Plasmas Still Alive
The plasma segment unit sales grew about 70% in 2012 versus the previous year for TVs larger than 60-inch. Revenues maximized 53% in 2012 to a total of about $800 million for the year. Category of plasma TV is still so much alive, especially with its well-priced 50-inch and 60-inch 1080p models.
Theaters offer new dimensions like they shake things up for pulling in higher-paying audiences. The race is on for experiences which would be paid more for by moviegoers once it is established that an movie going public would gain more for a thing they felt as better. People will go out of their regular range for going to a theater for whatever reason they see will accommodate them.
In this age and day there is much variation among cinemas. In an auditorium next to Disneyland at the UltraLuxe theaters, the seats twist, shake and rock with the action time. An artist codes these movements and the experience intensity can be adjusted with a button press by the moviegoer. Some UltraStar theaters replaced all the projectors of the film with digital ones. The IMAX screen at Edwards Irvine Spectrum theaters stretches from top to bottom and side to side along a curved wall in a humongous auditorium. The screen has 65.9 feet height and 90.5 feet width, once an educational films showpiece shot in huge 70mm IMAX film.
All the theaters chains now offer an experience of IMAX-like giant-screen with thundering surround voice. Cinemark calls it XD, RPX or ETX, but they all mean big screen and big sound.
Projectors have come a long way over the years and the traditional lamps used in projectors will eventually become a thing of the past. LEDs used in bulbless projector applications yield huge improvements in projector functionality and quality. With LED projectors, no longer will you have to worry about replacing lamps, degradation in image quality due to heavy use, high bulb temperatures and loud fans.
LED projectors used to be extremely hard to find, and also had price tags above $10,000.  But with many advancements in LED technology, prices have dropped, and there are many options when looking at a LED projector today. They come in all shapes, sizes and price ranges.
LED lamps in projectors are rated for over 20,000 hours of use, and many will even exceed this number, giving you up to 60,000 hours. This sort of longevity will save you thousands of dollars over the life of your projector because you will never have to replace a lamp again. This not only saves you money, but it saves you time. You will never have to open up your projector for basic maintenance tasks, or ever worry about dust getting around your bulb distorting your projector's video. These long life spans are complemented with a 30% reduction in power consumption when compared to traditional lamps of similar lumen output.  All of this leads to a quieter projector than what you may have been used to.
Other than long life spans and efficiency, LEDs provide deep and saturated colors, up to 140% of the NTSC Color Gamut. These stats are also complemented by exceptional contrast ratios because the LEDs can be pulsed on and off much faster than a traditional lamp, allowing you to see more details in every picture.
LED projectors are now more affordable than ever, allowing the consumer to finally have a clean, no maintenance solution for your conference room or business environment.  Of course, that's not to say that traditional projectors don't serve a purpose too.  If you have a high resolution or high lumen need, than you may still need to look at traditional projectors.  Speak to one of our system designers today and see which projectors best fits your needs.
The Polycom HDX series provides the combined experience of the best end-to-end high definition voice, video and content sharing in point-to-point and multipoint video conferences.  It is also easy to use, including access to the highest quality of service, support and training.
In today's internet-driven world, the ability to conduct real time communication and collaboration has become critical to an organization's survival. As the market leader in voice, video, data and web solutions, Polycom's award-winning conference technology makes it easy for people to interact and maximize productivity—over any network, in just about any environment, anywhere around the globe. That's why more organizations world-wide use and prefer Polycom conferencing solutions.
When it comes to gaining a competitive edge, it's all about who has the ability to make better decisions, faster and more effectively. Your organization needs to be equipped to respond more quickly to customer demand, solve support issues, react to market opportunities, and battle competitive threats.
In today's global marketplace, only the absolute best will do, and Polycom's HDX product line is clearly the best, offering a video solution for nearly any application. It delivers the richest audio, clearest and sharpest video, most transparent technology, and easiest to use interface, all enhanced by world-class service and support. HDX products are built on HDTV standards. In video conferencing, this vastly improves the overall viewing experience and eliminates meeting fatigue. Additionally, colors are more vibrant and realistic; movements are more sharp and smooth. This offers users the ability to interact more naturally, offering more than nine times the video quality of CIF video.
This exceptional user experience applies to sound, as well. Polycom's patent-pending Siren 22 heightens users' senses to new levels. HDX also incorporates Polycom's patented Stereo Surround technology, bringing new life to each call. For a truly in-person meeting experience, video participants can hear remote participants' voices in stereo through left and right speakers. Yet, all this is accomplished with a single HDX microphone array, powerful enough to pick up even a soft voice at the far end of the room and transmit it to everyone on the video call.
The Polycom HDX series was created by integrators, for integrators, offering the industry's highest level of flexibility and performance. Easily integrate a Polycom HDX product into a university auditorium with multiple cameras, projectors and displays. Create a unique and compelling board room, complete with touch-panel displays, recessed lighting and individual monitors for each participant. Or build a state-of-the-art training facility with DVD's that record each high definition video training, and HD document cameras to show local artifacts and documents. All of these meeting solutions, and more, are possible through integration using the Polycom HDX series and its powerful set of APIs.
Audiovisual isn't just slide shows on rickety projectors anymore.  The audio video industry, like everything else, has taken a gigantic leap into the technological future.  Audiovisual systems enable a business to get their message across more effectively, because in many cases, visual presentations of information are much more memorable
Your company likely doesn't have anyone with expertise in audio video.  It's not uncommon to see IT specialists called in to try to set up a firm's audio video system just because they have a basic techie background.  But real audio video specialists are engineers who can design to your company's exacting specifications.  They do everything from hanging a projector from the ceiling of your meeting room to installing a motorized screen that comes out of the wall to programming the software that facilitates it all.  Your conference room can be transformed into a state-of-the art think tank, with all the equipment controlled by a single remote.
Seventy-five percent of all projection systems sold are for PowerPoint presentations, but audio video services range from LCD projectors to interactive whiteboards to audio and video conferencing systems that enable your staff to exchange ideas from as far away as separate continents.  Technological advances have kept pace with those in consumer electronics, with wall-hanging plasma displays that can handle inputs from different sources, including DVD and computer sources.  With all these technologies, your meetings can include interactive video, striking graphical representations of any kind of data, and information that viewers can engage with in powerful ways, whether the context is an employee in-service training, consultations with business partners or proposals to prospective customers.
The key variables in selecting audio video services are centered around what your company is going to use them for. The initial meeting with is called a "needs assessment," and based on the information you provide, services will be designed around that.  Are the majority of your presentations based on PowerPoint, videoconferencing or computer-based training?  The number of meetings you conduct, the size of the group, and what type of presentation you are conducting should all be taken into account.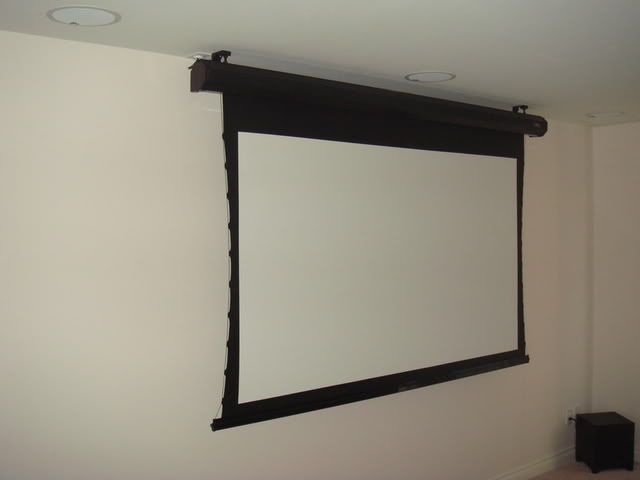 Projection Screens are an essential part of a display system. It is the screen that delivers the message.  A good screen will compliment and enhance the quality of any projected image. Nothing's more important in getting your message across to all in the audience.
Developments in software and electronics have made a large contribution to the enormous steps forward in projectors.  Because projectors provide increasingly enhanced light output, contrast and resolution, the quality of the projected image is constantly improving.  However, a good projector on its own is not enough. Optimal image quality can only be achieved if the projector and projection screen are matched to each other and to the application.  For that reason, selection of the right screen and screen fabric is an essential step for ensuring the best projection result.
The most important selection criteria are explained below.  Given that every situation is unique, this information should be regarded only as a guideline.
Step 1. Screen type
Determination of the type of screen is the first step.  Selection of a portable, wall or ceiling mounted screen – electrically driven or manual – depends on the situation and your personal preference.  Generally speaking, if the projection location is permanent, a wall or ceiling screen is to be preferred.  A portable screen is a better choice if you want to be able to project at various locations.
Step 2. Screen size
An important aspect of a projection screen is the screen size.  Since presentations now increasingly involve projection of data, the screen should not only be big enough for everything to be seen but, more importantly, for the texts and figures to be read clearly.  The correct screen size can be determined using the following three rules of thumb:
– The height of the screen should be at least one sixth of the distance from the screen to the back row of seats.
– The distance from the bottom of the screen to the floor should be at least 125 cm.
– The front row of seats should be around twice the screen height away from the screen.
Step 3. Screen format
Depending on the projector type, the projected image has a given ratio of width to height, also known as the aspect ratio. For a good-looking result, it is recommended to use a projection screen with the same aspect ratio as the projected image.  All screens in standard format have two borders on each side, while video or HDTV formats are finished with black borders all around.  These black borders increase the perceived contrast and set the projected image off in an attractive manner. You'll usually find projection screens in the following screen formats:
| Format | width/height | aspect ratio |
| --- | --- | --- |
| Standard format | 1:1 | 1 |
| Video format | 4:3 | 1,33 |
| Slide projection format | 3:2 | 1,50 |
| HDTV format | 16:9 | 1,78 |
Step 4. The correct screen fabric
However good the projector might be, the audience will only be properly served if they can clearly see and read the projected image which reaches them.  And that is exactly the added value of the projection screen.  A projection screen does more than just reflect.  It is capable of reflecting and distributing the projected image in a given direction.  Why should the image be distributed over the entire room if the audience is seated in a particular area?
The ability of the screen to distribute light in a given direction has direct consequences for the viewing angle and the brightness of the image.  This perceived brightness is often referred to as the reflection value or gain.  A screen with a wide viewing angle distributes light evenly over a wide viewing area and offers limited gain. Screens with a smaller viewing angle offer a higher gain factor.
Thus, the right choice of screen fabric depends directly on the application.  A number of ambient factors also play a role. The most important of these factors are:
Projector
Each projector has its own specific light output (ANSI Lumen). Depending on the light output, a higher or lower reflection value may be desirable.  If different projection methods are used, the screen fabric should be matched to the projection method with the lowest light output.
Ambient light
All the light that does not come from the projector can have a negative influence on the image quality. In applications where the ambient light can not be controlled, a screen fabric with a higher gain is recommended.
Position of the projector
Depending on whether the projector is mounted to the ceiling or placed on a projector stand, a 'reflective' or 'retro-reflective' screen fabric needs to be selected.
Projection room
The arrangement of the seats determines the angle at which the viewers look at the image. The wider this arrangement, the greater the viewing angle of the recommended fabric type needs to be.
Plasma and LCD TVs have finally hit their stride.  Major electronics stores have all but phased out the old CRT televisions, relegating them to the unseen corners.  Meanwhile, hordes of consumers are forced to make choices between two new technologies that they know little of.  Of course you have the helpful sales associates giving out their advice.  But without background information they may be able to take you for a ride. They may sell you something not quite right for you, or may forget to mention possible alternatives if they don't carry them.
So, below we have created an LCD TV versus plasma comparison guide to help navigate the differences between the two technologies.  We have also included a column for front projectors, which are an option frequently ignored by major electronics retailers.
Comparison
Plasma televisions
LCD televisions
Front Projectors
Advantage
Screen
Size
Average screen sizes range from 32 inches to 63 inches (measured on the diagonal). Larger plasmas, like a 103 inch unit from Panasonic, are in production, but are still prohibitively expensive for consumer use. Panasonic has announced plans to release a 150-inch plasma display by 2010.
Average screen sizes range from 13 inches to 65 inches (measured on the diagonal). As with plasma, there are larger LCD TVs made, like a 108 inch display which is to be released in later this year (2008) by Sharp, but they are not readily available or affordable at the consumer level.
Typical screen sizes from as small as 40 inches to as large as

300 inches

(measured on the diagonal). Projectors do not have a fixed image size so most projectors list their screen size as a range (i.e. 40-300 inches. Most buyers opt for sizes from 76-inches to 120-inches if they purchase a screen. Optimally the image should not be over 300-inches.
Front projectors are able to create the largest images by far. Projectors are also the only option which is not a fixed size (meaning your screen size can change if desired) and projectors are also more portable than an LCD or Plasma. Plasma and LCD TVs are comparable in size now with the maximum sizes over 60-inches. Maximum recommended projector image sizes are around 300-inches.
Viewing
Angle

Up to 178°.

Plasma images do not suffer from the same degradation at higher viewing angles that LCD TVs do because of the nature of the technology.

Up to 175°.

LCD TVs were originally designed for a one user experience, as a computer monitor. As the applications for the technology grew for larger to larger displays and audiences , an issue with viewing angles emerged. Although the LCD TV can be viewed from up to 176 degrees, there is a "sweet spot" which will produce brighter, higher contrast images.
Viewing angles are not an issue with front projectors because the light source is coming from in front of the screen, and not from behind. The surface on which you project (screen or wall surface) may have a slight impact on viewing angles.
Unlike rear projection TVs, front projectors do not have an issue with viewing angles, so they have the advantage here. Between LCD and Plasma; Plasma TVs have the advantage, but by a small margin. However, your viewing experience won't be ideal at 160 or 175 degree angles for any technology.
Screen Refresh
Rates / Pixel
response time
Plasma displays refresh and handle rapid movements in video about as well as CRT televisions, which is about the standard most viewers expect.
LCD TVs were originally designed for static data display, and not moving video. Therefore refresh rates had to be improved. LCD TVs with refresh rates below 16 ms or lower (5-15 ms) show very few noticeable artifacts. LCD TVs are now available with refresh rates specified by manufacturers as low as 5ms.
Projectors designed for home theater use will handle video better than a projector designed for business (though there are some good cross-over projectors on the market). Response time is not usually specified by projector manufactuers so it is difficult to compare directly to LCD and plasmas by comparing specs.
Plasma still specs faster than LCD for pixel response time, however LCD has closed the gap significantly in the past 3 years or so. For most consumers, projectors, plasma and LCD displays will have sufficient response times. For video gamers, or others to whom instantaneous response is a must, the lower the 'ms' spec…the better.
Burn-in or
Stuck Pixels
Plasma TVs can suffer from burn-in produced by static images. After extended periods, stationary images "burn in" and produce an after-image ghost which remains permanently on the screen. With technologies such as 'pixel orbitor,' new plasma TVs have addressed burn-in and significantly reduced the issues of older models.
LCD TVs do not suffer from burn-in, but can have a "retained pixel charge" which may also produce ghosting. Stuck pixels are also possible with an LCD display.
Projectors can suffer from dead pixels, though there are some manufacturers with a 'zero dead pixel' warranty. The bigger concern for projector buyers is lamp life. After long term use, the projected image will not be as bright as it was over the first few hundred hours. Lamps are replaceable, however, and cost between $200 – $400.
There is no clear winner here. Manufacturers of each technology have worked hard to minimize issues. If stuck pixels or burn in are major concerns for you, check the manufacturer warranty for their return or repair policies. Some manufactuers offer a 'zero dead pixel policy' and others will repair or replace products with pixels out in the 'sweet spot' of your picture.
Product
Life-span
Plasma TVs have a reported half life of 30,000 to 60,000 hours. Half-life is the time it takes the lamp to fade to half its original brightness. Panasonic recently reported life span's approaching 100,000 hours.
LCD TVs have a backlight that is specified to last between 30,000 and 60,000 hours. LCD TVs also have replaceable backlights, but the expense of replacing one when the time comes may be greater than simply replacing the entire TV.
Projectors have lamps that last up to 5000 hours (usually when opperated in a low-power mode). Projector lamps are replaceable, and cost up to aproximately $400. Projector lamps can be changed more than once. A projector may not be the best choice for everyday viewing, but it is the best value by cost per viewing inch for a home theater.
Both Plasma and LCD technology should more than adequately satisfy most consumers. The average CRT TV (the kind most of us have at home) has a half-life of around 25,000 hours. If the average American household watches an average of four to six hours of television a day, even a 30,000 hour backlight would give you over 16 years of use. By then you'll be enjoying your new 'Holodeck.' A video projector has a shorter lamp life, but the lamp can be replaced multiple times. Projectors are better suited for a dedicated home theater than as the sole display for a household. Projectors are the best value by cost per viewing inch.
Weight
Plasma displays are fairly heavy, and may need additional supports to be mounted onto a wall.
LCD TVs weigh less than comparably sized plasma TVs.
Single chip DLP and 3LCD projectors typically weigh between 10 – 20 lbs. They can be shipped for less than an LCD or Plasma TV over 19-inches in most cases.
Projectors are lighter and less bulky to ship and to install than an LCD or Plasma TV. Projection screens are bulky and large however. LCD TVs are second least heavy, followed by plasma.
Durability
Plasmas are somewhat fragile making them tricky to ship and install. Unlike the commercials where plasmas are mounted on the ceiling, plasmas are best installed by a professional, and should be installed on a wall that can bear a good deal of weight. However, recent improvements to plasma screens have made them significantly more durable and lighter weight.
Somewhat more durable than older plasmas. End users can easily mount an LCD TV themselves if desired, although LCD TVs should still be shipped with special care, and the screen itself should be cleaned with a streak free cleaner.
Projection surfaces vary, but a wall or screen are obviously less fragile than an LCD or Plasma TV. Screens can be washed and walls can be repainted. The projector itself is also as durable as either a Plasma or LCD TV.
A projector screen is durable and cleanable, and walls can be painted. Projectors are also very durrable. Because of this, projectors win this battle, with LCD TVs in second place, followed by plasma.
Shipping
Due to their fragile nature, plasma TVs need to be shipped by specialty carriers. Overnight or fast delivery options are not recommended. Special shipping methods and their heavier weight add to higher shipping costs.
Shipping LCD TVs is not difficult, and is not as expensive as shipping plasma displays.
Single chip DLP and 3LCD projectors typically weigh between 10 – 20 lbs. They can usually be shipped for less than most LCD or Plasma TVs over 19-inches.
Projectors are cheaper and safer to ship overall. If you purchase a screen, that will add significantly to the cost of shipping. In some cases, whether an LCD, plasma, or projector, the shipping will be paid by the reseller. Plasma's are typically heavier and may require that you ship them on a pallet, adding to the cost of shipping.
Installation
Plasmas are heavier, use more power, and run hotter than LCD TVs, and therefore require more planning when mounting them. Plasmas are generally best installed by professionals.
End users can easily install LCD TVs themselves, or can use them just as they use a traditional TV using a stand.
Depending on how polished you want your home theater to be, a projector can be very easy to set up, or can be a longer and more involved installation. Projectors are lightweight, and can be removed from an installed location and used in other applications – like a make shift outdoor theater.
LCD TVs are easier to install than plasmas because they weigh less. Most TVs sold in the consumer market will come with a stand. Projectors are a more complicated installation than either a plasma or LCD TV when they are ceiling mounted. TVs with a stand and projectors set on a table top require similar efforts to set up.
Brightness /
Contrast
Plasma TVs report higher brightness and contrast levels than LCDs. Under ideal conditions (no ambient light) this is a true advantage of plasma technology, because LCD TVs are backlit and therefore light must be blocked to create blacks. Plasmas have individual pixels that either on or off, creating deeper blacks and better contrast.
LCD TVs can often look better in 'real-world' situations. Plasmas are made with a special glass surface that can reflect light, which dulls the brightness and contrast of the image. LCD TVs reflect very little light, allowing them to maintain levels in well-lit rooms.
Projectors now have contrast ratios of 50,000:1 and higher, making them nearly equal by specification to many LCD and plasma TVs. However, with ambient light in a room, contrast and brightness can be significantly impacted. For best contrast that rivals LCD and plasma, low light or no light environments are best. Different specifications are used to measure brightness in a projector, so it is difficult to compare directly.
Just about any LCD TV or plasma will satisfy the expectations of most consumers need for brightness and contrast. Videophiles will look for the hightest contrast ratios and will likely ignore the brightness specs on an LCD or plasma TV. Newer home theater projectors (1000 ANSI lumens or brighter) should also satisfy in any controlled lighting environment. Projectors are not ideal for rooms with a lot of ambient light unless they have more than 2000 lumens of brightness.
Thickness
As thin as 3 inches deep.
As thin as 2 inches deep.
Projectors are simply projecting light onto a surface, so on a screen or wall the image will not take up much space. The projector itself will need to be placed on a flat surface or mounted out of the way.
The projected image is (obviously) very thin, and create a truly 'flat' image. LCDs TVs and plasma's are just about equal to each other in thickness (around 2-3 inches, and for most this is not an issue. But a projector is the solution that can be easily stored away out of site (using a retractable or portable screen).
Performance at
High Altitude
High altitudes can affect the performance of plasma displays because the gas held inside each pixel is stressed, and has to work harder to perform. Some manufacturers make plasmas that are specifically designed for high-altitudes, but they may be priced higher than standard models.
LCD TVs are not affected by high altitudes.
Most projectors are only minimally affected by altitude. The one difficulty with projectors will be a more active fan, which may make the projector run slightly louder.
LCD TVs or projectors have the advantage. New plasmas and projectors have evolved with new methods of dealing with the altitude issues. Ask your sales person for details if you live in a high altitude.
You've been asked to purchase a new LCD/DLP projector for one of your company's meeting rooms but there's so many features/options to consider.  Choosing a projector that will never be used will not only waste your company's money, but could reflect poorly on your decision-making skills. Read on for tips on how to choose the right projector for your meeting room.
NOTE: Your plans for the projector will determine how important each of the following qualities are.
Brightness
Consider how large the projected image must be in order for the audience to see it clearly, and whether you want to have the lights on during projection for attendees to take notes. These factors will help determine the level of brightness you require in a projector.
Projector brightness is measured in ANSI lumens. Generally, projectors run between 500 and 2100 lumens. If you are in a large conference room and you need an image bright enough to be seen from a distance without dimming the lights, you'll need higher lumens since the light from your projector disperses over distance.
Here's a guide:
1000 – 2000 lumens: works well for a screen of about 8′ – 10′ (244 – 305 cm) in medium-sized room with about 10 – 30 people and dim lighting
2000 – 3000 lumens: best for larger screens of about 12′ – 25′ (366 cm – 762 cm) in large meeting rooms with regular lighting and 30 – 100 people in the audience
Above 3000: good for 12′ – 25′ (366 cm – 762 cm) screens and larger rooms with audiences of over 100 people, but can also be used in various room sizes with bright lighting
Resolution
Resolution is the clarity of the picture produced by your projector. The resolution you choose for your projector will depend on the computer you'll be using. Your projector resolution must be equal to your monitor resolution. Most desktop computer monitors feature 800 x 600 pixel display or SVGA resolution. Laptops usually have 1024 x 768, (XGA resolution), or an even higher screen resolution of 1280 x 1024 (SXGA). If you want your meeting-room projector to offer guest laptop support you'll need to buy a projector with XGA resolution, rather than SVGA.
Another consideration when deciding on the resolution of your projector is that if you plan to project AutoCAD, video or other information that requires highly detailed image projection, you will need a projector with SXGA resolution in order to have a clear image.
Price and Brands
The price of multimedia projectors has dropped dramatically in recent years. Prices range from a low of US$2,000 to US$11,000 and up. Some of the more popular projector manufacturers include InFocus, NEC, Sharp, Sony, Panasonic and Toshiba.
Ceiling Mount
Are you planning to mount your projector on the ceiling of your meeting room? If so, be sure to specify that to a dealer because you'll require a projector with an inverted lens.