The Polycom HDX series provides the combined experience of the best end-to-end high definition voice, video and content sharing in point-to-point and multipoint video conferences.  It is also easy to use, including access to the highest quality of service, support and training.
In today's internet-driven world, the ability to conduct real time communication and collaboration has become critical to an organization's survival. As the market leader in voice, video, data and web solutions, Polycom's award-winning conference technology makes it easy for people to interact and maximize productivity—over any network, in just about any environment, anywhere around the globe. That's why more organizations world-wide use and prefer Polycom conferencing solutions.
When it comes to gaining a competitive edge, it's all about who has the ability to make better decisions, faster and more effectively. Your organization needs to be equipped to respond more quickly to customer demand, solve support issues, react to market opportunities, and battle competitive threats.
In today's global marketplace, only the absolute best will do, and Polycom's HDX product line is clearly the best, offering a video solution for nearly any application. It delivers the richest audio, clearest and sharpest video, most transparent technology, and easiest to use interface, all enhanced by world-class service and support. HDX products are built on HDTV standards. In video conferencing, this vastly improves the overall viewing experience and eliminates meeting fatigue. Additionally, colors are more vibrant and realistic; movements are more sharp and smooth. This offers users the ability to interact more naturally, offering more than nine times the video quality of CIF video.
This exceptional user experience applies to sound, as well. Polycom's patent-pending Siren 22 heightens users' senses to new levels. HDX also incorporates Polycom's patented Stereo Surround technology, bringing new life to each call. For a truly in-person meeting experience, video participants can hear remote participants' voices in stereo through left and right speakers. Yet, all this is accomplished with a single HDX microphone array, powerful enough to pick up even a soft voice at the far end of the room and transmit it to everyone on the video call.
The Polycom HDX series was created by integrators, for integrators, offering the industry's highest level of flexibility and performance. Easily integrate a Polycom HDX product into a university auditorium with multiple cameras, projectors and displays. Create a unique and compelling board room, complete with touch-panel displays, recessed lighting and individual monitors for each participant. Or build a state-of-the-art training facility with DVD's that record each high definition video training, and HD document cameras to show local artifacts and documents. All of these meeting solutions, and more, are possible through integration using the Polycom HDX series and its powerful set of APIs.
A lot of excitement has been generated recently with the return of the Elite brand.  Pioneer Elite is well-known to be the best of the best when it comes to picture quality.  Well, until Pioneer decided to up and leave the Plasma market.  It was long rumored that most of the techs from Pioneer joined Panasonic and that Panasonic may bring the Elite name back, but Sharp recently acquired a controlling interest in the Elite brand and has officially released the new Elite lineup.  This lineup consists of the two largest 3D-capable HDTVs today, the 60" PRO-60X5FD, and the 70" PRO-70X5FD.
The picture of the Sharp Elite PRO Series HDTVs delivers deeper black levels and better contrast than any other LCD or plasma on the market. Unlike other full-array local dimming TVs, it maintains its superior picture from normal viewing angles and blooming artifacts are virtually nonexistent. Color is extremely accurate, shadow detail is excellent and video processing does everything we expect and more. The screen maintains black levels well under ambient light.  Like all newer premium TVs, they're 3D-capable and have internet connectivity. They have built-in Wi-Fi, and a suite of internet services that includes Netflix, YouTube, Napster, and Elite Advantage, a concierge service that provides owners with remote assistance and diagnostics. No-nonsense styling, best-ever energy efficiency and a nearly-complete feature set, including two pairs of 3D glasses, ice the cake tastefully.
The Elite Series HDTVs may cost more than your standard HDTV, but there is good reason.  Everything about them, such as their picture quality, their support, and their looks is a level above the competition.

Sharp has unveiled a very impressive new AQUOS LCD TV, which launched earlier this month. It is the LC-80LE632U, boasting a mammoth 80-inch screen. It's definitely not lacking in the features department either, it's loaded with full 1080p resolution, the UltraBrilliant LED backlighting system, and built-in WiFi. Not only does the WiFi enable streaming from services such as Netflix and CinemaNow, but it also allows Sharp to assist with tech support if needed.
The 80-inch display on this unit gives you more than double the screen area of a 55-inch TV. The LED backlighting means it will slurp less power than CCFL sets, and it has a very nice contrast ratio of 6M:1 dynamic. The set also features a 120Hz Fine Motion Enhanced refresh rate for a clear image and the TV is under 4-inches deep, making it much thinner than projection TVs.
The TV minimizes light leakage using a 10-bit processing panel. This huge TV features dual USB ports, for the viewing of high-resolution video, music, and photos. It also uses a special Vyper Drive engine, which reduces lag when gaming on this monster TV. The 80-inch TV is retailing for $4,999.99, which is definitely one of the best values per inch in today's market.
We currently have a promotion going on this TV for $4399, give us a call at (858) 999-2031 for more information.
This is a fascinating area that is, for some, a reality, but for many, something that borders on science fiction.
Automation, in all areas of life, usually does one of two things for you: save you time you can use productively, or provide you with convenience. There are all sorts of products out there to help you automate elements of your home, ranging from those that the average can afford and implement to those that cost as much as the house itself.
This article will help you to find out why home automation is worth bothering with or not, (depending on the conclusions you draw for yourself in this case).
1. Lighting
Lighting automation allow you to rig up your home to control your lights from a remote control panel inside the home, when you get to work only to realize you left everything on, or remotely for when you hop into bed and you remember that a light has been left on. And of course you can just as easily turn them all back on once you get home or before a bunch of guests arrive.
These are some reasons of why lighting has, by far, been the most popular and common use of home automation since it was a technically and financially viable option.
You can also have a preset for every mood. Most lighting automation systems give you control over light dimming. This is no breakthrough in itself, as dimming is a pretty commonplace thing, but combines that fact with the ability to create intricate profiles with different lights set at different levels through the house.
Of course, lighting control can't stop at bulbs. There's natural light to consider as well, and there are products available to help you control curtains, blinds and shades.
2. Home Theater
You may have taken part in a small part of home automation, if you've ever bought one of those programmable, all-in-one remotes. A lot of home automation hobbyists will have the most intricate remote programmings you've seen. But there's also multi-zone audio to consider – the ability to select various speakers around the house through which to play audio from any given source, or even the ability to play from them all at once (or any combination thereof). If you've used AirTunes at home, you're familiar with multi-zone audio, which provides one of the smoothest integration and operation experiences.
3. Security and Surveillance
An automated security system in your home provides a far more protective and much safer experience than traditional methods. You can have a motion sensor that sends you a text message if it notices movement when nobody is meant to be home, or if sensors on your windows sense the glass breaking. With cameras you can view over the Internet, you can ensure nobody is taking off with your HDTV.(or even keep an eye on the kids).
If your system includes intercom, you can have alarms played through all those speakers around the house, ensuring that everyone in the house is aware of danger. And as we said about lighting automation, you could have all the bulbs in your house switch off when you leave home; advanced systems even allow you to lock up all the doors and windows as you're leaving at the same time.
If you're going on holidays, you can use the old simulation of presence trick; getting your system to randomly play with your blinds, playing music and flicking lights on or off. You can sleep a little sounder knowing that your home is a little less likely to be broken into.
4. Air
You're sitting at work in the air conditioning and you know it's going to be a hot drive home. The last thing you want to do is get out of the hot car and into a hot house. With home automation you can get your air conditioner and a couple of fans going just as you take off for the day. Of course, the same thing applies to heating and ventilation, too.
Air conditioners are expensive beasts. If you've routinely caught someone in your home forgetting to turn the thing off and running up the electricity bill, use an automation system to shut your air conditioner off after a half hour's use.
5. Communication
Intercom technology often falls into the home automation field. Intercom systems can assist in transmitting alarms right throughout the house; if you have trouble hearing the smoke alarm from your bedroom, this may just be what you need to keep alive for the rest of the year.
Hobbyists often like to have an intercom system right through the house, in every room. Intercom system also can be made accessible to your PDA or smartphone via wifi, and practically any device via the Internet.
Our productivity types like to have one source to go for everything – take the old one inbox rule, for instance. If you're like that, you can have your intercom system routed into your phone so that you only have to speak into the one mouthpiece, avoiding the germs of other persons. I imagine this works best when there's an intercom at the front gate; there's not much use for intercom over the phone when it comes to in-house intercom.
What else in Home automation?
There's still much more to home automation. There are systems for getting your pets fed on time, in case you've killed a rat or two due to negligence, and irrigation automation, in case you're guilty of the same when it comes to plants. You can even have your percolator or espresso machine brewing fifteen minutes before your alarm goes off.
It is true that we can all live without this stuff. We have been for thousands of years. But these things can make life easier and more enjoyable, so they're certainly worth considering if you've got the interest and the budget.
The Advantages of LED HDTVs
The LED-HDTV is the new option if you are looking to buy a new flat screen. Whereas before our choice was mainly limited to LCD and plasma TVs., now we have another contender to consider, the LED television. However, an LED screen will currently cost you more money than a standard LCD or plasma TV, so we need to understand why we might think about buying one of these televisions.

Here are a few reasons of why it may be worth switching to an LED television.
1. Brightness
LED lights are brighter than a fluorescent lamp, and so you should expect to get a brighter picture with an LED television compared to a standard LCD.
This should be especially useful in bright rooms with plenty of daylight, as the image should stand out much better.
A non-reflective screen, together with a brighter image, could make this a perfect choice for some rooms where the reflection of daylight could be a problem.
2. Picture Quality
The excellent picture quality is where a backlit LED HDTV comes into its own.
If you want to have a picture quality that is similar to that of a plasma screen, but wish to stick with LCD screen technology, then a backlit LED HDTV is worth considering.
An LED TV that is backlit, with local dimming and RGB LEDs, should have a much improved picture over that of a standard LCD TV.
You should expect to see a better contrast ratio and color accuracy.
3. Great Looks and Easy Installation
The new edge-lit LED HDTVs look fantastic.
They are thin, sleek and very modern-looking – so they will be a breeze to hang on the wall or stand elegantly in the corner of the room.
If you want to impress your neighbors, then just install one of these beauties in your room.
This might be reason enough to switch to an LED HDTV.
4. Low Power Consumption
The power consumption of LED HDTVs does vary between models.
So if you were thinking of buying an LED screen to save on power, it is wise to check with each particular model.
However, an edge-lit LED television can consume 30-40% less power than any other type of LCD or plasma TV.
Be more careful with backlit LEDs. They can actually be more power hungry than standard LCDs – and can be similar to that of a plasma screen. However, it is difficult to generalize about this issue as using different types of LEDs can also make a difference.
Backlit models which use RGB LEDs are often more power hungry than those that just use white LEDs – so if power saving is an issue for you, then check out an edge-lit LED television.
LED Television Technology Summary
So are the benefits of LED HDTV technology worth it to spending a bit extra?
No technology is perfect, and so there is always a need to weigh up the pros and cons of any TV before you buy one.
While these TVs are currently more expensive than plasmas or standard LCD TVs, there are reasons why it may be worth the extra money.
An LED screen can offer looks, ease of installation, low power consumption and an improved picture over other types of television – so decide how important these features are to you.
For over 10 years Gotuwired has specialized in installing custom home theater systems within all of San Diego including La Jolla, Del Mar, and the Rancho Santa Fe communities. Our highly trained staff is up to date on all the latest technology from 3D-TV to media streaming Blu-Ray players.
Gotuwired offers fully integrated, completely customized, turnkey home theater systems. Our attention to detail is put into every audio/video system installation, whether it's a fireplace HDTV installation, whole-house audio system or a simple universal remote, we make sure you are satisfied with every job. With years of experience, our skilled installation teams are always prepared to serve you anywhere in La Jolla, Del Mar, Rancho Santa Fe or within San Diego. We can provide you with the home theater solution that will give you, your family and friends years of enjoyment.
Gotuwired also has a wide range of experience in designing custom home theater systems with fully integrated components. If you are considering buying a new HDTV or building a custom home theater system to enjoy the latest movies on DVD or Blu-Ray, we can definitely help you choose the best components to fit your needs. Our system designers will come to your home, understand what you are looking and create a solution that fits within your budget. Because we're an independent company and not allied with any single manufacturer or brand, you'll always get the equipment recommendation that's best for your project.
Also, if you have already purchased a new surround sound system or HDTV, we can help you integrate and install your new TV, speakers or A/V components regardless if your home is located in La Jolla, Del Mar, Rancho Santa Fe or anywhere inside San Diego County.
For all your home theater needs; Gotuwired is the company for you.
Contact us now at (760)587-1516
HDTVs (also known as High Definition Televisions) provide a higher resolution and vibrant colors up to five times than standard TVs.
By the time the first set of High Definition Televisions released to the market in 1998, movies and sports fans got really excited with the surround sound and high resolution. With High Definition TVs, movies fans could also play movies in their original widescreen format for the fisrt time without the annoying black bars.
Apart from the picture clarity of High Definition TVs screens, it can be used on mobile phones or public display. High Definition transmission can be received through wired and wireless media; including satellite dishes, cables, mobile phones, PCs and even directly to storage devices with no intervention.
With up to five times better picture quality than standard definition and increased color vibrancy, it's easy to realize the benefits that High Definition TVs bring to your viewing experience. When including the Digital surround sound system, you'll be able to experience a cinema at your own home.
How HDTVs work
If you look closely at a color TV screen through a magnifier, you can see that it is made of groups of tiny red, green and blue dots called sub pixels. The TV pictures are always made of these sub pixels, no matter if the TV is analogue or digital. High Definition transmission is simply the transmission of the color and brightness values of these pixels, plus the sound signal, as digital data. These values are then converted back into pixels, and hence viewable pictures, at the receiver end of the transmission path.
The clarity of the picture depends on the difference in the number of pixels; Standard Definition TVs display a 720 by 576 pixels picture, which means the screen is made of less than 500,000 points of light. However, High Definition TVs can display a 1920 by 1080 pixels picture. Which means the screen is made of over 2,000,000 points of light.
How To Choose a New HDTV
You need to answer following two questions in order to choose the HDTV that suits your needs:
Which screen size fits to your room?
Which TV features you can't live without, and which features can you live without?
At GotUWired we draw a map of all your space and components and help you choose the right High Definition Television brand and Audio receivers that fit your lifestyle.
Finally, you can always get good HDTV advice from one of GotUWired expert Advisors. Contact Them Now!
Having trouble deciding between plasma and LCD televisions? You're not the only one. The truth is you are not going to go wrong with either. Each technology still gives you a far greater picture than any analog TV, and with the widescreen image you get to see more information.
In general LCD TVs are best for more well lit rooms, however, Plasma TVs give a better image when you have solid light control.
If you tend to watch your TV a lot during the day then we recommend LCD TVs. If most of your TV watching is in the evenings, then we would recommend Plasma technology. Plasma TVs will give typically give you a sharper image but because of their reflective glass, it really depends on your viewing times.
On the other hand LCD TVs are best for playing video games, or for hooking up to PCs, as they less likely to suffer "burn-in", which can be caused by having static images on the screen for too long. Plasma TVs, however, are best for watching movies and sports.
The key thing is that you are living in high definition, but, to help you out we've got this handy chart to help you determine which technology is best for you.
Plasma
LCD
General

Screen sizes

42-65+ inches

5-65+ inches

Cabinet depth

3+ inches

3+ inches

Power consumption

Slightly less-efficient per square inch

Slightly more-efficient per square inch

Off-angle viewing

Excellent from all angles

Image fades slightly when seen from extreme angles from sides or from above or below

Reflectivity of screen

Glass screens can reflect lots of light, so may be an issue in very bright rooms. Some models have glare-reducing screens that are more- or less-effective

Matte plastic screens usually reflect less light. Some models have screens that are actually more reflective than plasma

Features

PC connectivity

Less common but still included on many models

More common than with plasma

Other features

Varies per model

Varies per model

Picture quality

Motion blur caused by display

Negligible

Difficult to discern on most models, although subject to more blurring than plasma. 120Hz models less-subject to motion blur

Black-level performance (depth of "black" displayed)

Varies, although excellent on many models.

Varies, although generally worse than plasma on many models, and better than plasma on best models

Color saturation

Varies, although generally a bit better than LCD due to black level and off-angle advantages

Varies, although the best models can equal the best plasmas

Resolution

Typically 720p, up to 1080p on high-end models. The benefits of 1080p are not obvious at screen sizes below 50 inches to the majority of viewers.

Typically 720p, but 1080p is more common than plasma at more price and size points. The benefits of 1080p are not obvious at screen sizes below 50 inches to the majority of viewers

Durability

Burn-in (faint after-images left on-screen)

Possible with still images left on-screen with very bright settings for hours, although new models much less susceptible, and most burn-in is temporary and goes away after watching moving images

May occur in extreme situations (very bright still images left on-screen for days) but much less likely than with plasma or even standard tube TVs.

Lifespan (hours until fades to half-brightness)

Typically 60,000 hours, or about 20 years if used 8 hours per day.

Typically 60,000 hours, or about 20 years if used 8 hours per day.

Program type

HDTV

Excellent

Excellent for HDTV-compatible models.

Standard-definition TV

Dependent mostly on screen size. The smaller the screen, the better standard-def usually looks

Dependent mostly on screen size. The smaller the screen, the better standard-def usually looks

DVD Movies

Excellent given a model with good black-level performance

Very good, although models with worse black-level performance are less desirable

Games

Excellent for most users, although burn-in might deter gamers who leave screens paused for hours or overnight

Excellent, although motion blur might deter the most sensitive gamers
Samsung's LN52A650 dares to be different. In a world of me-too, glossy black flat-panel HDTVs, no few of which may bear the company's own logo, this 52-inch LCD is dressed in red. Like many radical design choices, you'll either love it or hate it, and we didn't love it. But before you write off this red TV, we recommend you check it out in person–the product shots here and elsewhere on the Web just don't capture the red tint of the frame properly. Aside from design, we found plenty to like about the higher-end LN52A650, and it produces arguably the best picture of any LCD TV we've tested so far, although it doesn't quite beat the quality of the best plasma.
Design
Samsung's LNA650 series incorporates the company's Touch of Color design scheme. Instead of the standard glossy black frame, the LN52A650 sports dark-red accents that suffuse the entire frame, but are most prominent along the top and bottom edge and either side. Other eye-catching elements include a layer of transparent plastic, which is visible along the extreme edges on all sides, and Samsung's trademark shiny screen (more on that below). The Touch definitely creates a unique look, but call us traditionalists: we didn't really like it. The photos above just can't capture how red the Touch makes the frame appear, especially in bright rooms, and if red isn't your favorite color, you're out of luck–no other colors have been confirmed for this year, despite the company touting a veritable rainbow at CES. In its favor, the red frame didn't really detract from the color fidelity of the picture.
A close-up of the side-panel input jacks also shows the red tint of the frame better than the main product shots.
Including the standard-issue pedestal swivel stand, the LN52A650 measures 50.2 inches wide by 34.1 inches tall by 12.8 inches deep and weighs 76.7 pounds. Without the stand, it comes in at 50.2 inches wide by 31.7 inches tall by 4.1 inches deep and 64.6 pounds.
The remote differs from the one included on the Samsung PN50A550 because it uses a rotating, clickable wheel, similar to an iPod scroll wheel, for menu navigation, as opposed to the standard, four-way directional keys. The wheel would be a cool idea if it was more responsive, but with the brief delay between moving the wheel and seeing the results on the screen, we found ourselves more than a bit annoyed by it. The rest of the remote's buttons are nice and big and backlit (the backlighting engages automatically when the remote is picked up, something we've never seen on a remote included with a TV), and we liked the dedicated "Tools" button that offered quick access to picture and sound modes, the sleep timer, and the picture-in-picture controls. We didn't like the clicker's glossy black finish, however, which picked up more than its share of dulling fingerprints after a few minutes.
We liked the easy-on-the-eyes design of Samsung's menu system.
Samsung's new menu system is sleeker than before and blessed with big, highly legible text set against transparent backgrounds that occupy almost the whole screen. Getting around is easy; there's helpful explanatory text along the bottom, and we dug the context-sensitive menu that would pop up occasionally to provide more options. Overall, it's one of the best-designed and most-attractive menu systems we've seen on any HDTV, and it really makes setup a breeze–except for the confusing picture mode arrangement (see below).
Features
The LN52A650 has a 120Hz refresh rate, which allows it to cut down on blur and to affect judder in motion with a video-processing mode Samsung calls "Auto Motion Plus." Check out David Carnoy's Fully Equipped column for an in-depth discussion of 120Hz, and the performance section of this review for details on how it's implemented on the LN52A650. Like most other LCD and plasma TV models on sale in 2008, the LN52A650 also has a native resolution of 1,920×1,080 (aka 1080p).
Three levels of de-judder processing are available on the LN52A550.
New for 2008, the 650 series also includes an Ethernet port, which allows the TV to access the Internet to display news, stock ticker information, and local weather. We liked the easy-to-read font in normal and large sizes, as well as the intuitive controls. USA Today provides the newsfeed, which can sit in the corner of the screen like a ticker (turn Desperate Housewives into Fox News!), or be expanded to allow you to read numerous top stories in a variety of topics. One annoying quirk was that we couldn't remove the Setup screen easily–hitting "return," as the manual suggested, merely turned off the whole service. Also, we'd really appreciate if the port allowed the TV to access firmware updates, but according to Samsung that's not in the cards. A USB-to-Wi-Fi dongle that allows the TV to connect to a wireless network (model WIS-08BGX, $34.99) is also available.
The Ethernet port allows the set to display a local weather report…
…as well as news clips and (not pictured) a customized stock ticker.
The LN52A650 has three adjustable picture modes that are each independent per input. That's great, but in addition there are three more picture presets, called "Entertainment Modes," that cannot be adjusted and are accessible via a separate key on the remote and the Setup menu. This arrangement is unnecessarily confusing on a TV with so many settings anyway; we'd prefer to have all of the picture modes, both adjustable and non-adjustable, be accessible together from a single key on the remote and one area of the Picture menu. Also, if you're in Entertainment mode, you're prevented from making picture adjustments, or even selecting one of the adjustable picture modes, until you actively cancel an Entertainment mode by navigating to the Setup menu (which the onscreen instructions suggest) or toggling the mode to "Off" using the remote. That's an awkward hitch in an otherwise smooth menu design.
Not every submenu gets the updated graphics, however, including the important (and still perfectly functional) white balance controls.
Others picture controls include five color temperature presets along with the ability to fine-tune color using the white balance menu; three varieties of noise reduction, including an automatic setting; a film mode to engage 2:3 pulldown (it also works with 1080i sources); a seven-position gamma control that affects the TV's progression from dark to light; a dynamic contrast control that adjusts the picture on the fly; a "black adjust" control that affects shadow detail; and a new color space control that lets you tweak the Samsung's color gamut.
You can choose from four aspect ratio modes for HD sources, two of which allow you to move the whole image across the screen horizontally and/or vertically. As we'd expect from a 1080p TV, one of those modes, called Just Scan, lets the LN52A650 scale 1080i and 1080p sources directly to the panel's pixels with no overscan–the best option unless you see interference along the edge of the screen, as can be the case with some channels or programs. There are also four modes available with standard-def sources.
We appreciated the three power-saver modes and the singular fact that, unlike most other manufacturers, this year Samsung did not use the brightest picture mode as its default. Instead, the default picture mode for Home use is Standard, which saves a lot of energy compared with the much brighter Dynamic. Check out the Juice Box below for details on the set's energy use. As far as other conveniences, Samsung throws in picture-in-picture along with a USB port that can connect to thumb drives to play back digital photos and MP3 music. The LN52A650 is also compatible with the company's forthcoming digital media adapter.
A third HDMI input and an Ethernet jack set apart the Samsung's jack pack.
The connectivity of the LN52A650 is excellent. There are three HDMI inputs available around back, while a fourth can be found in a recessed bay along the panel's left side. There's also a pair of component-video inputs; a single RF input for cable and antenna (the '07 models had two); and a VGA-style RGB input for computers (1,920×1,080 maximum resolution). That recessed bay offers an additional AV input with S-Video and composite video, a headphone jack, and the aforementioned USB port.
Performance
The Samsung LN52A650 is one of the best-performing LCDs we've tested. Its picture quality, anchored by excellent black-level performance, and accurate color, surpasses that of the Sony KDL-46XBR4–and Samsung's de-judder video processing has improved to the point where it's basically equal to the Sony. We did notice a couple of minor issues, and as usual we'd avoid watching dark movies on this glossy-screened TV in rooms with lots of ambient light, but that's about it.
Our standard calibration was aided by the numerous picture controls in the Samsung's user menu. We were able to improve color temperature and dial in saturation without going overboard thanks to the blue-only mode (check this tip to see how it works). Although we attempted to tweak the color points a bit using the custom color palette controls, primary and secondary colors were already close enough to the standard that we simply settled on the default Auto in the end. Click here for a full list of our dark-room picture settings.
After setup, we placed the LN52A650 in a comparison that included our reference sets–the Pioneer PDP-5080HD, the Sony KDS-55A3000, and the 120Hz Sony KDL-46XBR4–along with the Panasonic TH-46PX85U. We checked out Spider-Man 3 on Blu-ray at 1080p from the Sony PlayStation 3.
Black level: The Samsung LN52A650 reproduced one of the deepest shades of black we've seen from any LCD. It can't quite match the champ, Samsung's own LED-based LN-T4681F, but from what we remember, it's pretty dang close. The Pioneer and Panasonic plasmas got darker by a couple of hairs, although the Samsung solidly beat the two Sonys. Of course, as with all LCDs, those deep blacks became brighter when seen from off angle (see below).
Details in shadows were quite good, although not perfect. During a shot when Flint stares into the camera after sneaking into his daughter's room, for instance, we couldn't quite make out the print on the wallpaper behind him, and the shaded half of his face looked indistinct compared with the reference Pioneer, although still more natural than any of the other displays. Cranking brightness brought back the details but destroyed black levels, and the Samsung wasn't crushing black. Its gamma was just a bit shallow in dark areas, even at the most aggressive +3 (our preferred setting).
Color accuracy: The initial color temperature in Warm2 was still a tad blue (see the Geek Box), but other than that we had no complaints. After calibration it was quite accurate, lending a natural look to skin tones and other delicate areas, like Mary Jane's pale face. Green grass in the plaza and red balloons during the parade all looked rich and punchy, and color balance was superb. One major advantage the LN52A50 demonstrated over the Sony KDL-46XBR4 LCD was its color fidelity in dark areas–where the Sony dipped into blue, like many LCDs, the Samsung remained close to true black. Overall saturation, thanks to deep blacks and fine color balance, was equal to the superb Pioneer.
Video processing: Samsung's Auto Motion Plus (AMP) processing is designed to smooth out motion–specifically the judder or faint stuttering inherent in 24-frame material such as most films. Judder can be perceived most easily in pans and camera movement, but once you notice it, it seems to pop up everywhere there's any movement onscreen. Some viewers find the smoothing effect desireable, while some think it looks too video-like and even cartoonish in some instances, particularly Hollywood films. We're of the latter camp, but we feel de-judder processing can be effective in some scenes.
AMP has been improved this year, and it suffers fewer artifacts than the version we tested on the LN-T4671F from 2007. The infamous "triple ball effect" seems greatly toned down, for one thing. We looked at one example we cited in the 71F review, a deep pass during a college football game between West Virginia and Louisville, and this time there was very little blurring and elongation of the ball. We also turned to the same hockey match between the Ducks and the Kings and noticed blurring of the puck much less frequently. It was still there in some instances, such as a flip pass into the air that spanned half of the rink before landing, but it was much less noticeable. Of course, the level of AMP made a big difference–we saw more blurring and artifacts around the puck in High mode, fewer in Medium, about the same in Low, and none in Off. For that reason, we still recommend watching hockey, and indeed all sports, in Off mode.
Comparing the Samsung against the Sony 120Hz LCD, the Samsung seemed a bit less prone to artifacts, but the Sony appeared less unnaturally smooth. During the opening of Spider-Man, for example, the camera quickly pans over a newsstand and a headline in USA Today (double-plug!) that reads "What a catch!" showed stutter and artifacts in the Sony (in Standard mode) and none on the Samsung (in any of its modes). The camera then moved to follow Peter Parker on his scooter, and the Samsung looked like the camera was on rails, while the Sony allowed a little bit of unsteadiness that made for a much more natural look in that scene. Later, the camera orbits Parker's face at the beginning of the parade, and we saw a sort of halo effect around his head. The buildings in the background bent slightly near his head as they moved by, even in the Samsung's Low mode, although these artifacts were worse in Medium and High. In this case, the Samsung's Low and the Sony's Standard were pretty much indistinguishable.
Both sets looked much better in pans over natural landscapes from the Planet Earth Blu-ray and in some other non-Hollywood movie material, especially compared with the non-de-judder-equipped sets in the comparison.
We also turned AMP off, along with the Sony's de-judder processing, and switched our PS3 to 1080p/24 mode. We really couldn't tell the difference between 1080p/24 and 1080p/60 on either of the sets, so we suspect they don't perform the perfect 5x conversion from 24 frames to 120. Samsung's engineers (along with Sony's) claim the 52LN650 can perform this conversion, but if so, it doesn't make much difference.
A refresh rate 120Hz should also cut down on blur in motion, increasing motion resolution. We compared the 52LN650 to the Samsung LN32A450, a standard 60Hz display, and with AMP in Low mode the LN650 exhibited less blur in test footage designed to expose it. The blur returned when we turned Off AMP, so you can't get the blur-reduction on this set without de-judder. The Sony performed at about the same level for this test, and neither was as sharp as either of the plasma displays or the Sony SXRD. As usual we didn't notice blurring in program material, however, including during Spider-Man.
As we expect from any 1080p LCD, the Samsung resolved every line of 1080i and 1080p sources, and unlike most sets it properly de-interlaces 1080i film-based sources as long as you leave the film mode engaged.
Uniformity: LCD will always be at a disadvantage compared with plasma in this department, and the LN52A650 is no exception. Its screen was relatively uniform for an LCD, but there was still a brighter spot visible in the upper-left corner in dark scenes or letterbox bars, and in mid-dark fields we saw that the left and right edges of the screen appeared brighter than the middle. Meanwhile, as we mentioned above, viewing the image from off angle lightened the black areas somewhat, robbing some punch from colors. The Sony LCD lost a bit less depth of black from off angle, although we still preferred the Samsung from non-sweet-spot seats because it didn't become discolored. We've seen reports on AVS forum showing purplish discoloration from off angle on some 650 series models, but we didn't see it on our review sample.
Bright lighting: The LN52A650 has a similar type of shiny screen as last year's Samsung LCDs, and compared with a more matte LCD screen, such as the one on the Sony KDL-46XBR4, it reflects quite a bit of room lighting. With the windows open during the day and shining on the screen, we could clearly make out our reflection in the screen, especially during dark scenes, and it was a good deal more distracting than on the Sony or the Pioneer. Samsung claims the screen does increase contrast ratio and produce deeper black levels, which might be true given the LN52A650's black level performance, but we still found ourselves distracted by the shine in bright environments while watching dark scenes.
(Article Source:cnet.com)
Cnet Video Review of the LN-52A650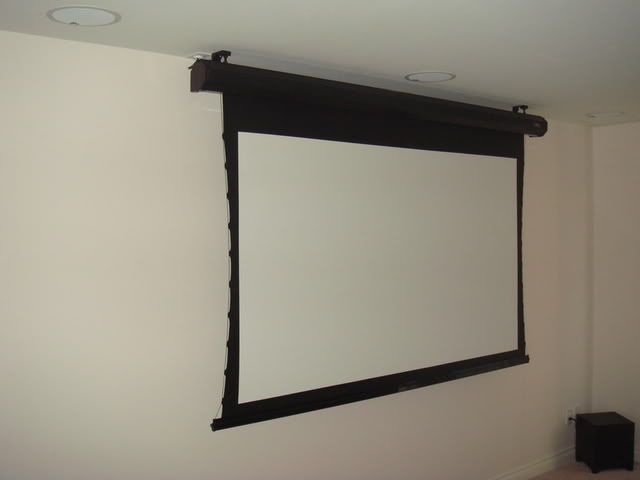 Projection Screens are an essential part of a display system. It is the screen that delivers the message.  A good screen will compliment and enhance the quality of any projected image. Nothing's more important in getting your message across to all in the audience.
Developments in software and electronics have made a large contribution to the enormous steps forward in projectors.  Because projectors provide increasingly enhanced light output, contrast and resolution, the quality of the projected image is constantly improving.  However, a good projector on its own is not enough. Optimal image quality can only be achieved if the projector and projection screen are matched to each other and to the application.  For that reason, selection of the right screen and screen fabric is an essential step for ensuring the best projection result.
The most important selection criteria are explained below.  Given that every situation is unique, this information should be regarded only as a guideline.
Step 1. Screen type
Determination of the type of screen is the first step.  Selection of a portable, wall or ceiling mounted screen – electrically driven or manual – depends on the situation and your personal preference.  Generally speaking, if the projection location is permanent, a wall or ceiling screen is to be preferred.  A portable screen is a better choice if you want to be able to project at various locations.
Step 2. Screen size
An important aspect of a projection screen is the screen size.  Since presentations now increasingly involve projection of data, the screen should not only be big enough for everything to be seen but, more importantly, for the texts and figures to be read clearly.  The correct screen size can be determined using the following three rules of thumb:
– The height of the screen should be at least one sixth of the distance from the screen to the back row of seats.
– The distance from the bottom of the screen to the floor should be at least 125 cm.
– The front row of seats should be around twice the screen height away from the screen.
Step 3. Screen format
Depending on the projector type, the projected image has a given ratio of width to height, also known as the aspect ratio. For a good-looking result, it is recommended to use a projection screen with the same aspect ratio as the projected image.  All screens in standard format have two borders on each side, while video or HDTV formats are finished with black borders all around.  These black borders increase the perceived contrast and set the projected image off in an attractive manner. You'll usually find projection screens in the following screen formats:
| Format | width/height | aspect ratio |
| --- | --- | --- |
| Standard format | 1:1 | 1 |
| Video format | 4:3 | 1,33 |
| Slide projection format | 3:2 | 1,50 |
| HDTV format | 16:9 | 1,78 |
Step 4. The correct screen fabric
However good the projector might be, the audience will only be properly served if they can clearly see and read the projected image which reaches them.  And that is exactly the added value of the projection screen.  A projection screen does more than just reflect.  It is capable of reflecting and distributing the projected image in a given direction.  Why should the image be distributed over the entire room if the audience is seated in a particular area?
The ability of the screen to distribute light in a given direction has direct consequences for the viewing angle and the brightness of the image.  This perceived brightness is often referred to as the reflection value or gain.  A screen with a wide viewing angle distributes light evenly over a wide viewing area and offers limited gain. Screens with a smaller viewing angle offer a higher gain factor.
Thus, the right choice of screen fabric depends directly on the application.  A number of ambient factors also play a role. The most important of these factors are:
Projector
Each projector has its own specific light output (ANSI Lumen). Depending on the light output, a higher or lower reflection value may be desirable.  If different projection methods are used, the screen fabric should be matched to the projection method with the lowest light output.
Ambient light
All the light that does not come from the projector can have a negative influence on the image quality. In applications where the ambient light can not be controlled, a screen fabric with a higher gain is recommended.
Position of the projector
Depending on whether the projector is mounted to the ceiling or placed on a projector stand, a 'reflective' or 'retro-reflective' screen fabric needs to be selected.
Projection room
The arrangement of the seats determines the angle at which the viewers look at the image. The wider this arrangement, the greater the viewing angle of the recommended fabric type needs to be.